In the current environmental crisis many of us are thinking of ways to make everything we do more sustainable. We have ditched our single use plastics, changed our energy suppliers and cars, growing more veg, recycling, upcycling and even bicycling more!
But did you know that on average a Wedding in the UK generates a staggering 14.5 tonnes of carbon emissions. Not to mention the 250 – 450 kilos of rubbish comprised of disposable decorations, packaging and food wate.  And what about the combined carbon footprints of the guests who have travelled far and wide to attend your big wedding day event! With an enormous price tag also attached to all this extravagance, Weddings could figuratively and literally be costing the earth!!
So, how can you have the wedding of your dreams without it being such a detrimental impact on the planet? Below I suggest a 8 simple changes you could make to your big day in order to mitigate against the huge environmental and financial cost without compromising on the enjoyment and celebration of your special day.
Local and seasonal
The first and easiest thing you can do is to source seasonal and source local. This immediately reduces your carbon footprint and is a great way to help small and local businesses into the bargain.
Stationary
Of course you are going to need to invite people to your wedding celebration. Some have suggested going completely paper free and doing this online, however, there are environmental impacts of using the internet too so, you'll need to weigh up the impact yourself on this one.
The good news is, there are many providers now who supply eco-friendly stationary solutions – using recycled biodegradable paper for invites, place name cards etc. What if you could take this to the next level and actually send invites on recycled paper imbedded with seeds that your guests can then plant in their gardens to encourage much needed  flowers!!
Laura Likes and Wild Favours are two such suppliers and I think they look fab, these will also encourage the bees to your garden as an added bonus – so what's not to like!
Rings
There are some issues around the ethics and environmental impact of jewellery so its worth knowing where you are getting your rings from, so that you can feel confident the band on your finger that you'll be wearing for the rest of your life has been ethically and sustainably sourced.
Becky Pearce in Surrey has a great philosophy to her jewellery making and it all looks fabulous too, not just supplying wedding bands but other lovely pieces that perfectly meet the needs of the environmentally conscious bride and groom.
If you want something completely different head on over to Eco Wood Rings where they can make you bespoke rings using well, wood! They are wonderful creations and such a lovely romantic story behind their beginnings it warms your heart just to read it!
Decorations
One very simple way to save on decorations is to choose a venue that is a beautiful backdrop with perhaps stunning views so that you really don't need to add anything to it! The UK countryside is of course perfect for this but you may need to think of a contingency plan in case of rain!
Wherever you celebrate your wedding – the decorations don't need to be unsustainable. There are  many small artisan businesses making all sorts of wonderful creations from tried and tested techniques using, reeds, willow, wood and even stinging nettles would you believe! Here are a few I have picked out locally to me that caught my eye.
Willow and Yoga make fabulous items using, you guessed it, willow! Anything from beautiful bunting to amazing sculpted hearts and wonderful table centre pieces just perfect for any wedding!
Now you can't really go wrong with flowers either as a centre piece or hand held bouquets. However, sometimes the environmental impact means that many arrangements are out of season and travel thousands of miles to arrive at your florist. But Plant Passion pride themselves on providing you with seasonably picked flowers here in the Surrey Hills. I think you'll agree they look gorgeous for any celebration.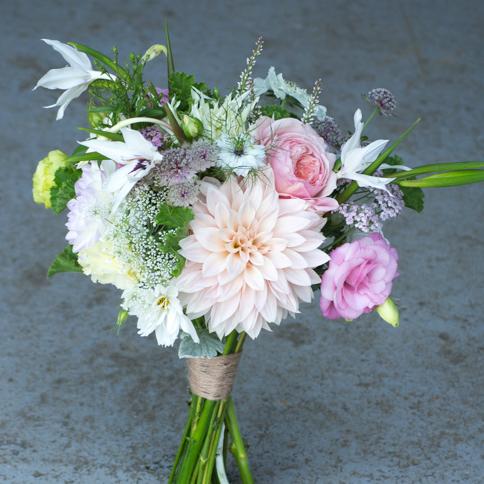 Dresses and Suits
As most environmentally conscious people will know the fashion industry is a huge burden on the environment, so what can you do to remain sustainable in terms of that all-important wedding dress or suit?
One thing you could do is wear a preloved dress and there are many places offering preloved garments. Greenway Brides are just one such provider who although are not using sustainable products per sey, are using the principle of recycling to reduce the impact on the environment. Rolling in the Roses on the other hand are proud to be able to say that all their gowns are handmade by them in England and offer sustainable, ethically produced, organic and eco-friendly fabrics, and vegan alternatives to silk.
Erica at Real Green Dress gives you the benefit of a choice of both of these green options, with two collections to choose from. The Pure, which consists of original restored vintage dresses and Evolution, a unique collection of remodelled gowns.
Well, I couldn't just focus on the ladies here so I have scoured the internet for you gents too and come up with these.
There are basically a couple of options – go vintage and reuse or go tailor made using environmentally sustainable fabrics. There are not many eco suit makers around at the moment but hopefully things will start to change when people realise that men are also concerned about the environment too!
A couple of great vintage options can either be found at Rokit with those classic vintage looks. Or for other timeless looks pop over to Zeus Vintage where they have a huge selection to choose from. If you're not feeling the vintage vibe then you could splash out on a Brave Gentleman jacket and trouser combo from vegan designer Joshua Katcher, who maintains "The handsomeness of an object should be matched by the handsomeness of how it was made." Josh's suits are made from Italian bamboo with buttons crafted from tagua nuts also know as the vegetarian ivory!  Who knew!!
Confetti
Now no wedding pictures would be complete without the obligatory confetti shot but when it comes to confetti many venues have banned synthetic non biodegradable types which is good news. There are now lots of other options for natural confetti made from real flowers. Although Confetti Direct are not based in Surrey they provide beautiful naturally grown confetti made from the petals of Delphiniums and Cornflowers which they have been growing for 23 years now! Head over to their website and watch their video, there is something beautiful about seeing all those fields of flowers.
Food & Drink
When you eventually sit down to your wedding breakfast with all your guests it is good to know that what you have provided has been ethically sourced and with a low environmental impact you can manage.  So following the guiding principle of local and seasonal, seek out local providers who will be happy to chat with you about your needs. I have picked out a few local caterers to me but wherever you are there will be people happy to help.
Two Many Cooks are a local catering company in Dorking in Surrey that provide a complete wedding service with bespoke menus for your wedding celebration including vegan and vegetarian options. They source their food as much as they can locally and ethically.  Avala wedding caterers pride themselves on their ethical stance, maintaining that they source locally and seasonally and have taken measures to reduce their food waste from any of their events by collecting this for composting. They have also reduced their single use plastics and use more recyclable materials for their business.
Cakes
When it comes to reducing your impact on the environment the biggest thing you can do is to go animal free – so for this last part I have chosen two vegan cake makers.
Now when it comes to cakes you can't get more wonderful designs than those from Tiny Sarah Cakes – this Reading based vegan cake maker extraordinaire is amazing in her decorations, they look more like pieces of art than something you can eat – but eat them you can and by all accounts she has many happy customers who testify to how yummy they are, just check out her creations!
Then the other one I have picked is Fairypan . She also produces amazing looking vegan wedding  cakes and she is based in London. To be honest from Surrey you are probably equidistant from either one so just check out their pages to see what takes your fancy.
I really hope that these ideas have sparked some thoughts and ideas of your own about how you can make your celebration more sustainable. If you would like to let me know of any of your own fantastic ideas you have had, or if you have any questions about how to reduce your carbon footprint – please do get in touch I'd love to hear from you.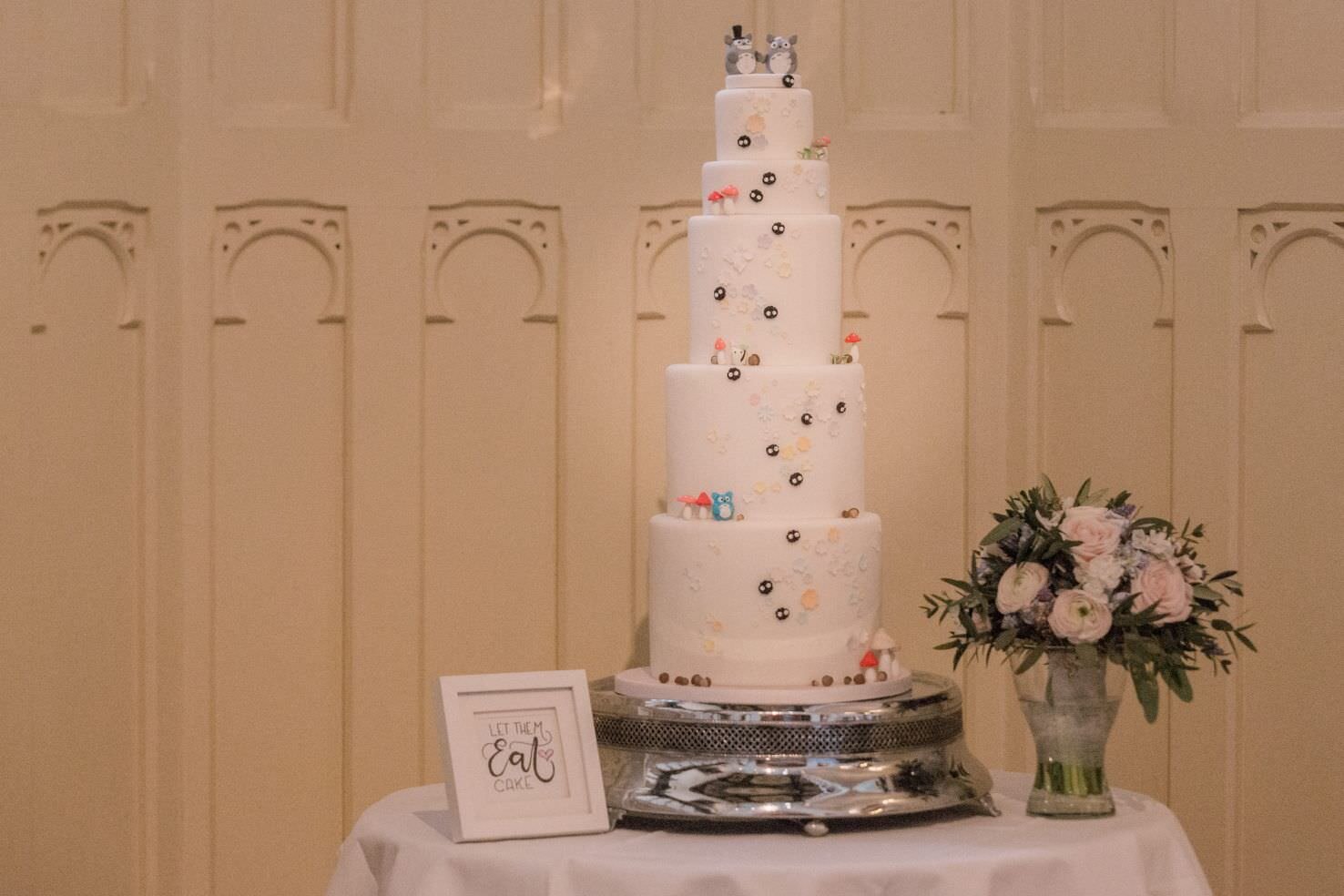 Images from suppliers.